In the brand-new fire station in Almere-Poort, a practical washing facility has been realised in which the professional fire engines are cleaned. The washing facility is equipped with hygienic and low-maintenance Cleanpanel plastic wall panels, which were installed by our assembly team.
Washing facility for fire engines
A completely new fire station has been built in Almere-Poort. With the new base, the professional fire brigade of Almere is better distributed over the city, so that all districts can be easily reached. The new, modern building houses many different areas, such as workplaces, sleeping rooms and sports facilities. It also has its own car wash where fire engines can be professionally cleaned.
The Almere fire brigade has a large number of different vehicles, including official cars, trucks, equipment vehicles and the well-known fire engines. All of them are different vehicles with their own dimensions and components. The new wash facility is fully equipped for this.
Plastic wall panels in truck wash
The walls, ceilings and the cove of the fire truck wash are covered with Cleanpanel plastic panels in the colour white. A great advantage of the panels is that they are produced in the factory in the desired length. This means that even very high walls can be covered with one-piece panels, giving a sleek and hygienic result.
Easy to clean
The cove in the laundry room is also completely covered with Cleanpanel and finished with our plastic profiles. This looks beautiful and it serves an important purpose: ease of maintenance. Walls and ceilings covered with synthetic panels are easy to spray clean. Small edges and connection points are neatly finished with profiles, so that no dirt remains in these areas either.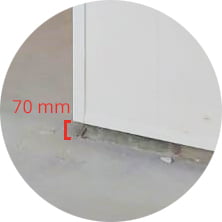 A hygienic finish was also chosen for the connection of the synthetic panels to the floor. Before the wall panels were mounted, the curve between the floor and the wall construction was coated with a floor coating. Then we did not place the wall panels directly on the floor, but 'hung' 70 mm above it. By coating the floor again completely, a kind of drainage channel was created under the wall panels. Dirt that comes from the walls can thus easily be sprayed away under the panels.
To summarise: the new station has a low-maintenance and hygienic washroom for the fire engines. Good for a "spotless" fleet!